Check out the following articles and resources for our hobby.
We will add more articles from experienced breeders and exhibitors on a regular basis so check back frequently.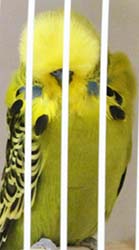 Interview With Alain Morris from Belgium
An Interview With Lutino Breeder Bert Sempels from Belgium
Natural Supplements For Budgerigars
Our Contest To Win Products from JOELS bvba
Using Garlic Juice To Protect Budgerigars Against Mites and Intestinal Worms.
Limited Edition Varieties Print from a painting by Eric Peake.
The Budgerigar Association of America
Win A Free Budgie Shirt Contests
Budgie Stickers To Promote Our Hobby
Interview With Moheb Nabil "The Pharaoh Of Crested Budgerigars
A Beginners Guide To Breeding Best In Show
The Plague Of Our Hobby - French Moult
Psittacine Beak & Feather Disease
An Interview with Tibor Gyerko - Hungary
Bob Wilson interviewed by Mark Hawke
Recipe For Making Mineral Blocks
Easy Steps To Soak and Sprout Seed
Protein Sources For Your Birds
Mealworms - Animal Protein For Budgerigars
Remedies For Protecting The Health Of Your Birds
Calcium Deficiency In Budgerigars & Related Problems
Keeping Records, Pedigrees and Statistics
Using Drinking Water To Aid The Health Of Your Budgerigars
Searching For That Magic Supplement
Our "Exhibition Budgerigars" Group - Worldwide - Join Today
Ron Toft's Interview for Cage & Aviary Birds Magazine (UK)
Report On The 2015 Cairo Show - Budgies In The Land Of The Pharaohs
Interview With Bilal Erdem - Turkey
Interview with Ahmed Abu Gamela - Egypt
Interview with Shahir Mahmoud - Egypt
Place an Ad in the BAA Breeders Directory
Interview with Hans C Ostergaard - Denmark
The Hind Stud Begins - Andy Hind - England
Interview with Fawzy El Old - Egypt
The DIY First-Aid Kit and Natural Remedies
Interview with Maarten Heylen - Belgium
Feather Complexities - A Must-Read Article by Rob Manvell - Australia
Judges for The BAA 2016 Grand National Show
Problems During Extremely Hot Weather
When is The Right Time to Breed Budgerigars - Eric Peake
Interview with Malcolm Taylor - South Africa
Suppliers for Supplements and Feed
Are we killing the Natural Instincts of The Budgerigar?
Submit Educational Articles for The BAA Journal
American Judges Interested To Judge In Other Countries
April 2017 Contest - Win A Free Budgie Shirt
Using Aloe Vera To Deworm Budgerigars
Interview with Mathieu Bily - Belgium
A few articles breeders sent in to the Budgerigars.com site I had back in the early 90s:
A Guide To The Rules Of Budgerigar Management - Terry Pilkington
Spangles - The Early Days - Jeff Attwood
Advice To Beginners - Clare & Terry Pilkington
From Nest Box To Show Cage - Alf Ormerod
Recessive Pieds - Dave Cottrell
Some Do's and Don'ts of Budgerigar Breeding - Dr John Rogers
Assessment Time - Terry Pilkington
Forming A Stud - Alf Ormerod
Budgies Today - Don Langell
Breeding Albinos To Win - Harry Willis
Yellowface, Goldenface, Whiteface - Ken Gray
When Is The Right Time To Breed Budgerigars? - Eric Peake
Show Preparation - Dick Wyatt
The Recipe For Success - Roger Carr
Budgerigars History - Robert Manvell
The Rare Variety - Crests - Grant Finlay
Budgerigars For The First Time - Mrs Ann Barboza
Taught Us A Lesson - Richard Risebrow
Clagged Vent In Budgerigars - Dr John Baker
A Preventative Program For A Healthier Stud - Terry Tuxford
Don't Be Color Blind - Eric Peake
Magazine Articles:
It's Show Time For Your Budgies
Suppliers:
Other Links:
Eric Peake - International Bird Artist
If you have articles you would like us to consider publishing on this site Email Us a copy to review.