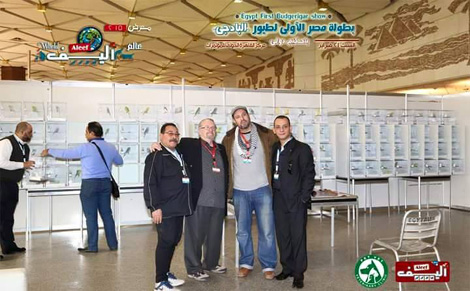 It was a pleasant surprise when I was invited to judge the First National Budgerigar Show in Egypt, certainly an honor and a privilege. I must admit there was initial hesitation based on what we see and here on the news but any fears soon faded as plans began to take shape for my visit to Cairo and I talked to others who had visited.
The invitation was extended by Moheb Nabil who well known for his passion for Crested and Japanese (Hogamo) Crested Budgerigars and his active group "Budgie & Exhibition Budgies" on facebook that has over 15,000 members and grows daily. I soon learned that Moheb was part of a small team dedicated to bring our hobby the forefront and hosting top level shows in Egypt. The show was to be part of the Annual Aleef World Pet Expo run by Ahmad Soliman El Aggan, a successful local businessman who also publishes the only pet magazine in Egypt under the same name.
The exhibition budgerigar hobby in Egypt is in its infancy, but thriving, with people from most segments of society and religions working together to grow and enjoy our hobby. As this was to be their first show there was plenty of planning to do… Schedule of Classes, Judging Procedures, Show Cages, Staging, Trophies and Awards, Educational Seminars.. and much more.
During the coming months plans came together thanks to the untiring efforts and daily communications with "The Show Team" which also included Dr Mohamed Hegab a top Cairo veterinarian, Abu Gamela a lovebird & budgie breeder and author, ex-boxer Ahmed Abd Elmaksoud, and his breeder friend Shahir Mahmoud
As few breeders in Egypt use traceable closed bands, and the show would be held in February, we decided all birds in this first show would be shown in Adult Classes…. and used a Schedule of Classes similar to used at many USA shows, with a few modifications to accommodate varieties popular in Egypt. Sections varied by variety with separate classes for cocks and hens…and section winners earning Challenge Certificates.
There were three "shows or divisions" within the main show. Regular Exhibition Varieties, Crests and Japanese (Hagoromo) Crests. All breeders were to show in the same division.
Show cages posed a challenge as nobody had traditional box-style budgie show cages in numbers… Lovebird show cages were considered but again numbers proved a problem. After lengthy discussion we decided to experiment with a small wire cage of similar overall dimensions to our show cages. A sample was made and accepted and within 24 hours 300 cages were ordered.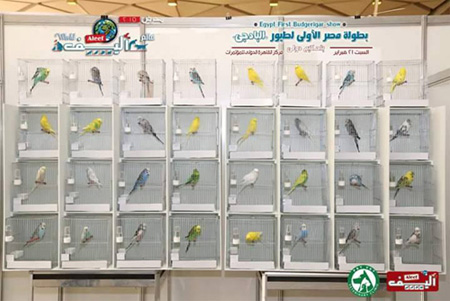 Special staging was constructed with compartments to hold each wire show cage to guard against cross contamination. Painted white the staging gave the appearance we see with our show cages when the wire cages were placed inside.
The day finally arrived and I drove through snow to the Kansas City Airport… and after three long flights finally landed in Cairo 21 hours later Wednesday evening and 55 degrees F… a welcome break from our frigid winter and snow. The five locals who were inside to greet me did not share my feelings and were all rugged up in overcoats, scarves and caps…LOL..
"The Team" certainly made me feel welcome… Off to try Egyptian coffee, then to a roadside restaurant to sample the local food… and soon the conversation turned to budgies and within a few minutes you would swear we had all known each other for years. Amazing how our hobby brings folks together.
Leading up to the show my home was the elegant LeMeridien Heliopolis Hotel only minutes from the airport and bustling downtown Cairo. During this time we met several times to review plans, visit the venue, and discuss judging procedures and aspects of the event.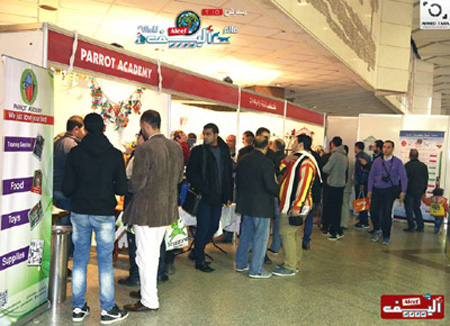 A small section of the Aleet Pet Expo.
Friday the Pet Expo opened to a big crowd at the Cairo Convention Center, around 3000 the first day and 10,000 projected over Friday and Saturday. Very impressive venue… Certainly the nicest location I have seen for a budgie show. There was a very professional layout of booths with big name vendors promoting their products and services. The "Show Team" also met for a final check of plans for the show.. Everybody seemed excited but a little anxious about what tomorrow would bring.
Any concerns soon faded next morning. When we arrived at the venue there was a long line of breeders checking in birds. Breeders came from all over the city by car, bus, subway and taxis with their birds in small travel cages frequently carried in shopping bags. Once at check-in the birds were inspected by a vet for signs of scaleyface or illness, transferred to a wire show cage with entry number attached, then placed in schedule order on the staging.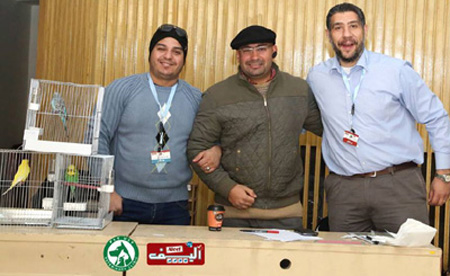 The "Check-In Team" did a fantastic job.
As entries grew so did the number of exhibitors milling around to watch and taking photos. I do not recall seeing so much excitement at a show in years.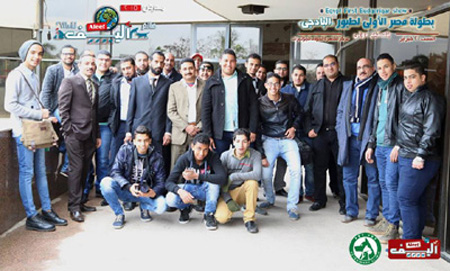 Plenty of exhibitors waiting for the show to start.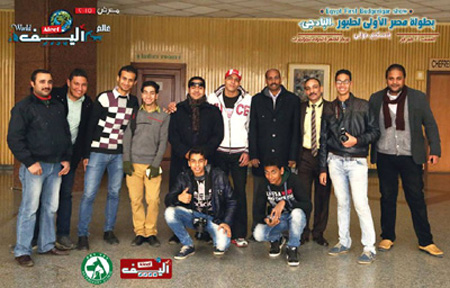 Judging commenced around 10AM, and all the upfront planning and discussions paid off. The stewards did a fantastic job…. Rather amazing for their first shows. The birds were brought to the judging table by class and section. As we could not raise the cages to eye level I chose to sit while judging for a better view. That worked fine (but suggestion added to the list for future shows). Winners were selected and Challenge Certificates awarded.
We used colored dots to identify placings… making it easy for stewards to identify cages that would return for further competition or to be returned later to compete for top 10 awards.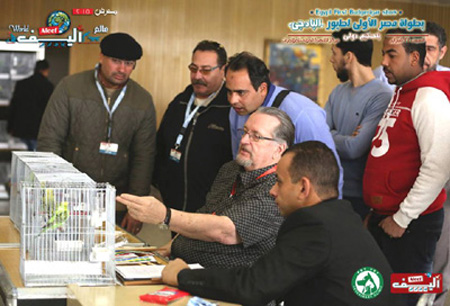 J
udging offered an opportunity to give a few tips to the stewards.
First "show/division" judged was the Regular Exhibition Varieties. I was pleasantly surprised at the overall quality. The best birds would certainly compete at shows in USA and even in UK… A compliment to the ability of some Egyptian breeders as imports have been banned for many years and they have to use their skills in breeding and enhancing desired features.
The wire show cages proved excellent. Easy to view each bird, and compare one bird against the next. And, as the cages had only one perch in the center they all perched and stayed in position most of the day. No flitting from perch to perch or unruly birds hiding behind the front rail like we see in box-style cages. I can only recall a couple of birds all day that needed a judging stick to get them up on the perch…. Could have been that the one perch had an impact.. or maybe most Egyptian breeders spend more time handling and training their birds.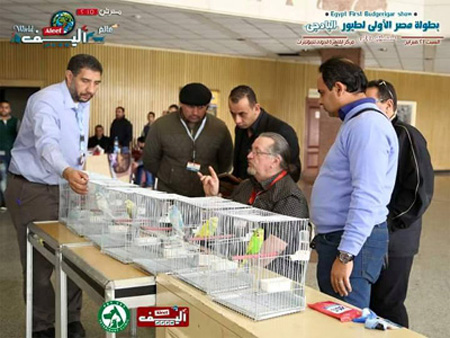 Next came the Crests, with similar number of entries to the "Regular Exhibition" Show. Most were good size, good feather, and excellent full circular crests. Again the better entries would be competitive in other countries, and would challenge the best I have seen in Australia and UK.
Final group to be judged were the Japanese (Hogoromo) Crests and again a good number. It was the first time I had seen or judged this variety but with a little advice from head stewards it was relatively easy to evaluate the overall bird and the uniformity of "feather flowers' required on both wings. This variety would be the rage with rare breeders if we could get a few to other countries.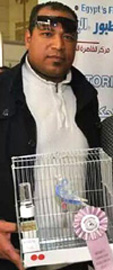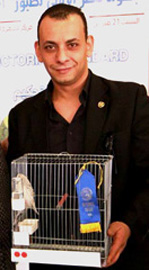 Best Japanese (left) and Moheb Nabil with his Challenge Certificate winner.
Judging the Japanese really highlighted another benefit of the wire show cage where the entire bird could be viewed without moving the birds from perch to perch and forcing it to turn on the perch.
Finally the best ten in each Division were compared for Best In Show and Top Bench (Best Ten Birds In Show).
Not surprisingly the "Regular Varieties" ruled the day.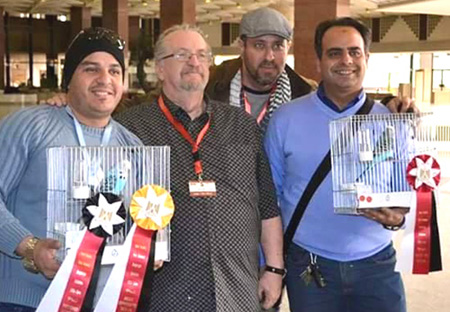 with Ahmad Soliman El Aggan and premier award winners..Ahmed Abd Elmaksoud, 2nd BIS and Best Opposite Sex (left) and Shahir Mahmoud
, Best In Show.
Best In Show went to an excellent Normal Skyblue Cock exhibited by Shahir Mahmoud. A good size bird, well prepared, with directional feather and good deep mask.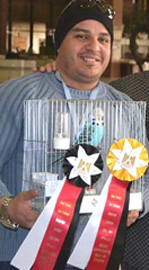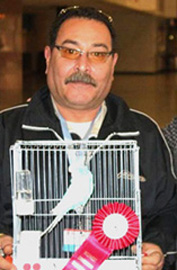 Best Opposite Sex (left) and Best Crest.
Second and Best Opposite Sex was a magnificent Opaline Skyblue Hen bred by Ahmed Abd Elmaksoud. Well balanced with a super top end, directional feather and blow. One of the nicest hens I have seen in years.. One I would love to have in my breeding room. Unfortunately I had to penalize her for some minor flecking, otherwise she would have taken the top award.
Third Best In Show was an outstanding Recessive Pied Cock. Well balanced bird just lacked a little overall compared to the first two. This cock would win CCs in USA and UK.
The Best Crest moved up to eighth Best In Show, again showing the quality of this variety.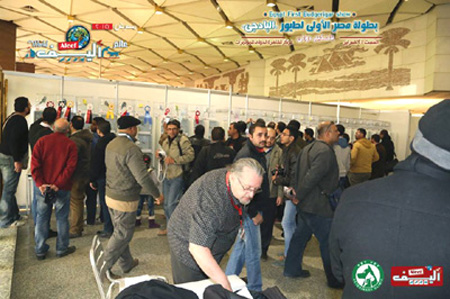 As soon as the awards were presented the crowds again gathered around the staging to view the winners, ask questions, and take more photos. (Now I know how movie stars feel about the paparazzi).
Following the judging there were several Seminars/Lectures held in a conference room downstairs that held around 200 people. Most seats were filled when Dr Mohamed Hegab gave an excellent presentation on common budgie ailments, diseases, and good aviary practices. Excellent presentation. The breeders here are certainly lucky to have a well-known and respected vet so involved in the hobby.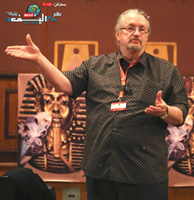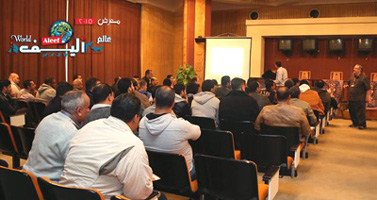 For my two programs, first on "The Standard, Features & Faults, and Judging Procedures"… and a second "How To Build A Winning Stud" ... we had a translator for the few who were not fluent in English… and they resulted in plenty of very intelligent and thought provoking questions from the audience which included breeders who flew in from Yemen and other countries in the region to attend the show and lectures.
Following the seminars it was time for another interview. This time with National Geographic who also exhibited to the Pet Expo to promote and secure new subscribers. Earlier there were interviews with Cairo television, radio, newspapers and Reuters. These guys really know how to work facebook and the media to promote and follow-up after their show.
The invitation and the privilege of judging the First National Show in Egypt is certainly something I will always remember and treasure… The locals say they learned a lot from my visit, but I know I learned much more. Not only about the wonderful country and its history, their people and customs…. But also how our hobby helps break through all country, race and religious barriers and can get us all working together for common goals. The passion and excitement I saw in the Egyptian breeders is a great sign for the hobby in The Middle East. I hope those in other countries will follow their lead.
After the show I stayed in an apartment for a week to experience local life, food and customs. Absolutely Amazing. My hosts gave me many "insider tours" of Old Cairo, Giza and The Pyramids, The Nile, Sacred Mosques and Cathedrals, and other places I am sure tourists never see. Must admit it was hard to say good-bye to these wonderful friends.