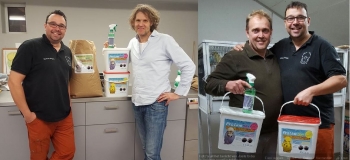 Joels - Belgium - Seed mixes and softfoods formulated by top breeders Maarten Heylen and Jac Cuyten.... used by many top breeders including Willie Dokter, Mike Ball, Michael Maroné, and Daniel Lutolf.
Just Supplements - UK - Exhibitors Gina and Alan Adams provide a full line of natural supplements including Thrive & Gloss.
BirdPro.uk - Barry Lloyd offers a wide range of products for exhibition budgerigars and breeders of pigeons and reptiles.
Kearney Feed Store - Where I buy my seed in Kearney MO USA. Great service. Special orders placed by Wednesday morning are ready for pickup the following day.
Vetafarm - Australia - I have used Vetafram products for years. Their Megabac-S saved my stud from a megabacteria outbreak years ago. They have distributors in most countries. I also use Soluvite-D in the drinking water one week each month for most of the year.
Riversway Aviculture Products - UK - A range of cage accessory products. Great service and they ship overseas.
Sam1 Bird Products - Sam Wilde's site providing a wide range of bird products across the UK, including feeds, cleaning products, supplements and much more.
Fluker Farms - Where I bought my first live mealworms.
Mercasystems.com - Pronafit Pro-Smoke for insect control in your birdroom.
Morning Bird Products USA - Online Store.
Just Bird Stuff - USA - Online Store
Hilton Herbs - Natural Supplements - Vitamins, Minerals, and more. Just add to the drinking water. Simple and effective.
Oropharma - FertiVit - A well-balanced blend of vitamins, amino acids and trace elements, enriched with vitamin E I add to the drinking water for 6-8 weeks leading up to breeding season.