During a trip to England during 2013 for the Budgerigar Society Club Show and a few aviary visits Ron Toft interviewed me about my time in the hobby and the differences from country to country.
The following article appeared in Cage & Aviary Birds Magazine.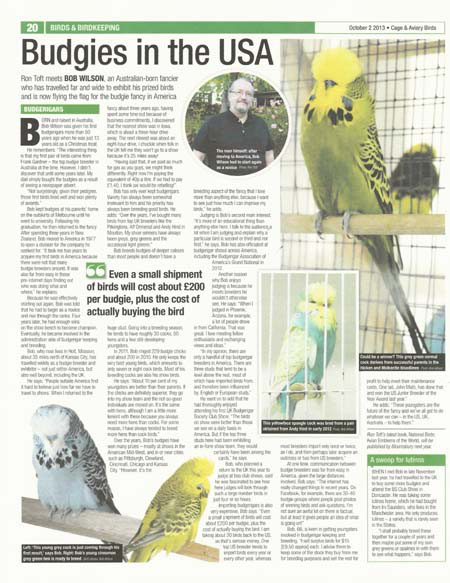 Ron Toft Reports:
Australia born and raised Bob Wilson was given his first budgerigars more than 50 years ago when he was 13.
"It was my Christmas treat," said Bob, who has lived and worked in the US for most of his life.
"The interesting thing is that my first pair of birds came from Frank Gardener – the top budgie breeder in Australia at the time. I didn't discover that, however, until some years later. My dad simply bought the budgies as a result of seeing a newspaper ad. Not surprisingly, given their pedigree, those first birds bred well and won lots of awards."
Bob kept budgies at his parents' home on the outskirts of Melbourne until he went to university. He returned to the fancy following his graduation. After spending three years in New Zealand, Bob moved to the US in 1977 to open a division of the company for which he then worked.
"It took me two years to acquire my first birds in the US because there weren't that many budgie breeders around. Also, it was far from easy in those pre-internet days finding out who was doing what and where."
Because Bob had effectively started again with budgerigars, he was told that he would have to begin as novice and rise through the ranks.
"So that is what I did. Four years later I had become a champion. Eventually I also became involved in the administration side of budgerigar keeping and breeding."
Bob, who lives in the small town of Holt, Missouri, about 35 miles north of Kansas City, has travelled widely as a budgie breeder and exhibitor – not just within the US but well beyond, including the UK.
"People outside America find it hard to believe just how far we have to travel to shows. When I returned to the fancy about three years ago, having spent some time out of the hobby because of business commitments, I discovered that the nearest show to Kansas City was in Iowa, about a three-hour drive away. The next nearest show was about an eight-hour drive. I chuckle when folk in the UK tell me they won't go to a show because its 25 miles away!
"Having said that, if we paid as much for gas as you guys, we might think differently. Right now I'm paying the equivalent of 40p a litre. If we had to pay £1.40, I think we would be revolting!"
Bob has only ever kept budgerigars. Variety has always been "somewhat irrelevant" to him. His priority has always been breeding good birds.
"Over the years, I've bought many birds from top UK breeders, and my winning ones have always been greys, grey-greens and the occasional light greens." Why? "I simply couldn't tell you!"
Bob breeds budgies of deeper colours than many people and doesn't have a huge stud. "Going into a breeding season, I tend to have around 30 cocks, 50 hens and a few still-developing youngsters."
When I met Bob in late November 2012, he was in the UK to buy some more birds and attend the big Budgerigar Society show in Doncaster.
"I shall be taking some lutinos home with me I bought from Irv Saunders, who lives in the Manchester area. He produces only lutinos – something you don't see in the States. I shall probably breed these together for a couple years and then maybe put some of my own grey-greens or opaline in with them to see what happens."
Bob rung 229 budgie chicks in 2011 and around 200 in 2010. "I only keep the very, very best young birds – probably only around seven or eight as far as cocks are concerned. Most of my breeding cocks are also my show birds.
"About 10% of my youngsters are better than their parents. If the chicks are definitely superior, they go into my show team and the not-so-good individuals are moved on. It's the same with hens, although I am a little more lenient with these because you always need more hens than cocks. For some reason, I have always tended to breed more hens than cocks."
Over the years, Bob's budgies have won many prizes – mostly at shows in the American Mid-West, in or near cities such as Pittsburgh, Cleveland, Cincinnati, Chicago and Kansas City.
"In fact, I won a show in Kansas City very recently. But it's the breeding aspect of the fancy that I love more than anything else because I want to see just how much I can improve my birds."
Judging is Bob's second main interest. "Judging is more of an educational thing than anything else in the US. I talk to the audience a lot when I am judging and explain why, say, a particular bird is second or third and not first."
Bob has officiated at budgerigar shows all over the US, including the Budgerigar Association of America's Grand National in 2012.
One of the reasons Bob enjoys judging is because he meets breeders he wouldn't otherwise get to see.
"When I judged in Phoenix, Arizona, for example, a lot of people drove in from California. That was great. I love meeting fellow enthusiasts and exchanging views and ideas – be that at home or abroad."
Bob continued: "In my humble opinion there are only a handful of top budgerigar breeders in the US. There are three studs that tend to be a level above the rest, most of which have imported birds from and therefore been influenced by English or European studs."
He said he had thoroughly enjoyed attending his first UK budgerigar club show. "The birds on show were better than those we see on a daily basis in America. But if the top three studs in the US had been exhibiting an in-form show team, they would certainly have been on the cards."
Bob, who is returning to the UK in 2013 to judge at two budgerigar club shows, said he had been "fascinated to see how they judged a couple of thousand birds in just four hours. The big thing for me was meeting a lot of people I had only previously talked to on the phone or written to."
Importing budgerigars is very expensive, Bob told me. "Even a small shipment of birds will cost around £200 per budgie, plus the cost of actually buying the bird. I am taking about 30 birds back to the US, so that's serious money. One top US breeder tends to import birds every year or every other year, whereas most breeders import only once or twice, as I do, and then perhaps later acquire an outcross or two from US breeders."
At one time, communication between budgie breeders was far from easy in the US, given the large distances involved.
"The internet has really changed things in recent years," said Bob. "On Facebook, for example, there are 30 to 40 budgie groups where people post photos of winning birds and ask questions. I'm not sure an awful lot on there is factual, but at least it gives people an idea of what is going on!"
Bob, 66, is very keen in getting youngsters involved in budgerigar keeping and breeding. "I sell them surplus birds for $15 each. I advise them to keep some of the stock they buy from me for breeding purposes and sell the rest for profit to help meet their maintenance costs. One lad, who is 15, has done that and is set to win the US junior breeder of the year award."
He added: "These youngsters are the future of the fancy and we've all got to do whatever we can – in the US, UK, Australia or wherever we live – to help them."