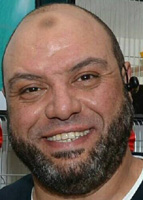 While visiting Egypt to judge the First National Budgerigar Show in February 2015 I met Abu Gamela who was a member of the Show Management Team. Abu is a highly repected breeder of budgies and lovebirds who recently wrote a book on his experience in our hobby which is widely read in Egypt and surrounding countries.
I Know you are well known in Egypt as a breeder of lovebirds. What made you interested to also start breeding budgerigars?
Actually I started with budgerigars first. I have only been breeding lovebirds for three year, but have had good results with them.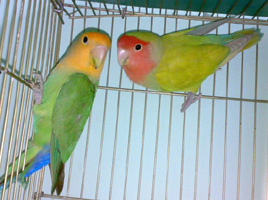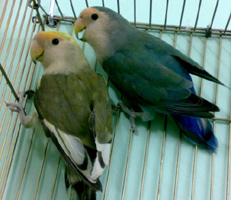 A few of Abu's lovebirds.
When did you start with budgies?
I first started with budgies over ten years ago…. And focused on the Crested varieties.
And where did your initial stock come from?
My first birds came from a friend.. Then I tried to improve them by crossing with bigger exhibition type budgies which I was able to get from Willie Doktor.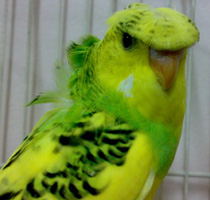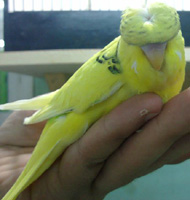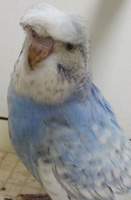 Abu is well known for his Crests.
How many birds do you have now?
Currently I have 50 pairs of English style budgies and almost 50 pair of Crested.
Do you focus on certain varieties?
I focus on the English-Exhibition type Crested budgerigars.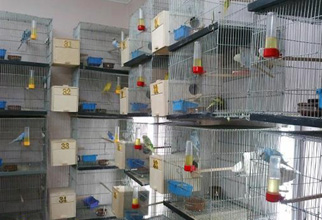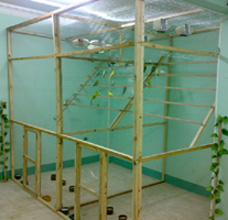 Some of the breeding and flight cages.
Tell us about your birdroom and breeding cages.
I have a separate building for the birds that has three large rooms..
The breeding cages are 50 × 50 × 40 with wood nestboxes 30 × 25 × 25
I also have large walk-in flights where all youngsters go to develop… and the older birds rest when not breeding.
In the rooms we measure temperature and humidity and try to reach the climate best suited for a successful breeding season.
What do you find is the best time to pair up in Egypt?
It is very hot in Egypt during Summer months. The best time for mating birds is September when the weather turns cooler.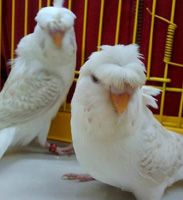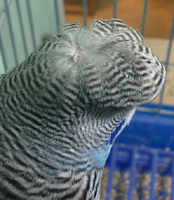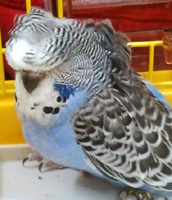 Plenty of quality in the Crests... Feather formation.. and size too.
Do you follow a certain procedure when selecting pairs for breeding?
We do change the number of hours the white lighting for the birds are on.. 13 hours while they are resting is increased to 15 hours during breeding season.
When selecting breeding pairs I take into account appropriate age, features and body forces, which will hopefully produce the best quality youngsters and improve overall quality.
How many youngsters do you usually produce in a year?
Most years we have between 150 and 200 youngsters.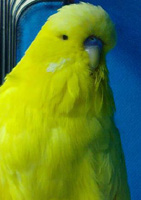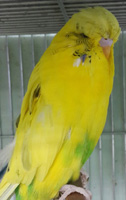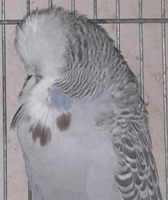 Abu is building several families of top "Normal Exhibition" budgies.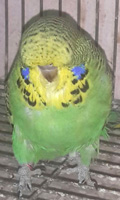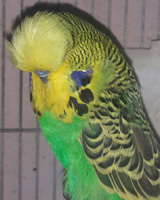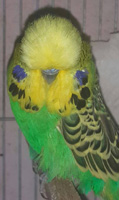 Tell us about your feeding program. Seeds, vegetables and supplements.
My nutrition program includes a variety of grains as well as a softfood mixed with boiled eggs and breadcrumbs, carrots and several dietary supplements from well known manufacturers..
My birds also get apples and oranges… and plenty of fresh vegetables.
Do you feed anything special in the months before breeding season?
Basically I add more eggs and breadcrumbs to the mix from Queko company. I find this is high quality and provides the extra nutrition needed leading up to breeding season.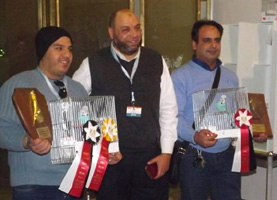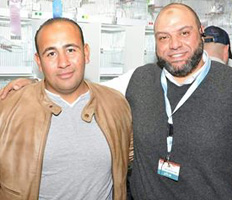 Abu congratulates hia friends Ahmed Abd Elmaksoud and Shahir Mahmoud after they took the top two places in the Aleef Budgerigar Championship in Cairo... And later with his friend Bahaa.
Where do you buy outcrosses to bring in new features to improve overall quality?
I occasionally get a good bird from a friend who I consider is the top local breeder…. or when available imported from abroad. We now have a ban on importing budgies to Egypt, but one day I hope to get birds from Daniel Lutolf, Maarten Heylen and Willie Doktor. My better Recessive Pieds today are from a family my friend and I have developed together.
What is the price of a good exhibition quality bird in Egypt?
Good bird prices range between $ 500 to $ 1,000 for a pair of top quality English badgies or good Crests.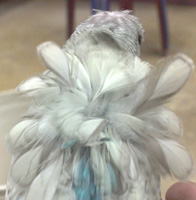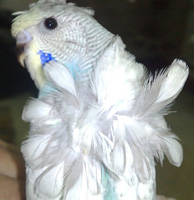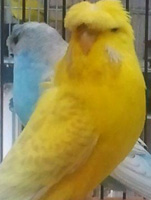 Interesting feathers on these Japanese Crests.... and a Lacewing Crested Hen.
What features are you working on now?
I am now working on improving the overall size and quality of my Crests. I am also focused on increasing the size of my exhibition style birds and improving feather quality.
I notice that many of your birds are larger and have better feather quality than most others, and they have few common faults like flecking. Comments?
The hobby in Egypt is quite new so we are all learning... and trying to make our birds better. I like the longer cap feathers on the modern style birds. It makes the crests look so much better. Flecking was a major problem introduced with some of the birds local breeders imported when it was legal. We are working hard to get it under control.
What do you see as the biggest challenges you have for growing the hobby in Egypt?
Egypt's biggest challenges are the difficulty of obtaining birds of high quality, and also that we are not allowed to travel with birds to participate in international exhibitions.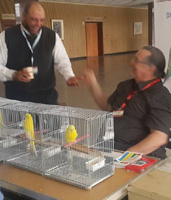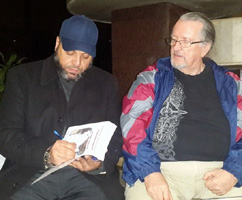 Abu did a great job stewarding at the Cairo Show. Autographing my copy of his new book... Hot off the press.
I was very impressed with your new book about Budgies and Lovebirds that was release at the Aleef Pet Expo in Cairo in February. What gave you the idea to share your knowledge in this book?
My book covers both budgies and lovebirds and explains my own style developed over the 10 years breeding budgerigars and three years with lovebirds. I covered most of the problems I faced and the solutions that worked for the birds to be healthy and successfully breed. I tried to compile information that would benefit both beginners and experienced breeders.