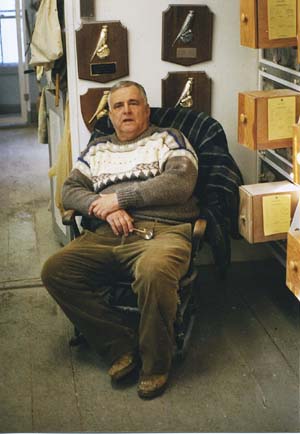 It takes a unique individual to impact an industry, sport, or hobby on a local, national and even International basis.
Don Langell was one of those individuals.
A successful banking executive from Boxford Massachusetts, Don was introduced to budgerigars after a successful stint raising and exhibiting checker-giant rabbits.
With his knowledge of livestock and genetics Don quickly advanced to Champion Division and set about improving his stock.
Over the years he built a true stud of high quality budgerigars, not just a collection of birds, and became the leading breeder-exhibitor in the North-East.
At shows within surrounding states exhibitors cringed when the "Massachusetts Mafia" of Don, and his buddies Fran Curran and Dan Gallo arrived with their birds. They knew they were in for a tough day.
You were always in for an entertaining afternoon when these guys met up with other top breeders like Joe Lastella, Harold & Gordon Trethaway, Dr Joe Sabella and the LaLevees. Lots of inside jokes and ribbing kept you on your toes.
It was not uncommon for Don's birds to take the majority of placings on the top bench, and he won most major shows in the North-East on more than one occasion.
His successes on the showbench were widespread and he won several All-Americans.
Langell birds were in huge demand by breeders nationwide and his stock became the foundation for many successful exhibitors.
As Don's reputation as a breeder and exhibitor spread he developed friendships with leading fanciers around the World like English legends Alf Ormerod and Harry Bryan, and he was invited to judge shows in the U.K.
Many top International breeders visited Don's aviary in Boxford when visiting the United States, including Eric Peake, who painted the ABS Ideal, and Clare & Terry Pilkington, who aptly nicknamed him "The King".
Don's impact on the hobby went far beyond his breeding expertise and success at shows. He joined the Judges Panel and judged most major shows across the country. You always knew you were in for an enjoyable and educational day when Don was judging.
Don served ABS for many years as District Director, President and Chairman of the Judges Panel.
For those of us who got to know Don on a more personal nature, and spent time relaxing and talking birds with him at Boxford there was a different side to him that was well hidden to many. He was a generous man who loved his wife Jean and their children, loved life, treasured his friends, loved his birds, was actually very humble (despite his brash facade) , and was ALWAYS ready to help and educate a young fancier who was willing to listen and heed his advice.
Our hobby is far better today because of the contribution of Don Langell. Truly a top bench breeder, exhibitor, judge, husband, father, friend, and just a good guy.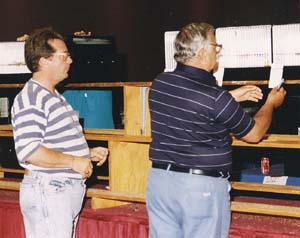 Don judging a show in Kansas City.
An Interview with Don Langell in 1988
Photos Of Don's Birds & Birdroom