This interview was printed in "BUDGERIGAR

", the magazine of The Budgerigar Society of New South Wales,

February – March 2016

issue.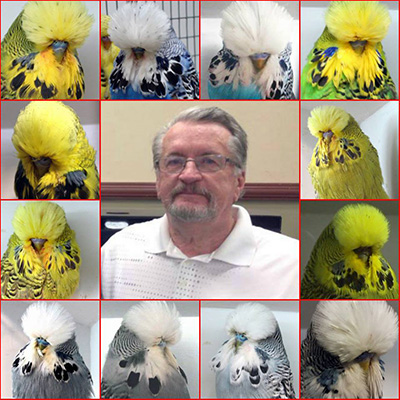 International Exhibition Budgerigar
20 - 20 Interview with Bob Wilson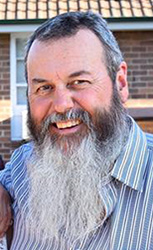 By Mark Hawke
I don't know Bob personally but have had correspondence with him for a few years through the Internet and of course Facebook. Bob's always come across as a very knowledgeable and caring person always willing to go the extra mile for beginners. He is a credit to the hobby, not only with advice he shares but for the amount of work he does for the hobby.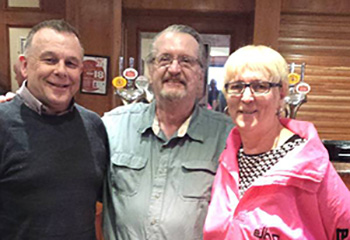 Bob with friends Harry Hockaday (England) and Regina Scates (Germany) during the WBO Meetings and Budgerigar Society Convention 2015.
He attends the World Budgerigar Organisation (WBO) meetings and also judges.
One of his latest adventures has been in Egypt which could only be described as one of the best thing anyone could ever be lucky enough to do as I'd jump at the chance.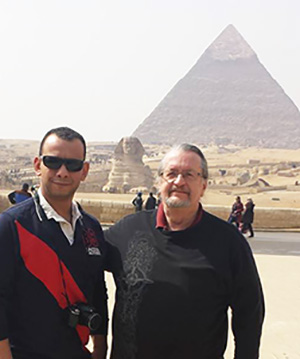 With Moheb Nabil at The Pyramids after judging the First National Budgerigar Championship in Cairo.

I will be in contact with Bob to thank him personally for taking the time for this wonderful insight into one of the biggest and most respected men in our hobby of Exhibition Budgerigars.

Congratulations on the fantastic job that you are doing and continue to do.

So let's take a look into what makes Bob Wilson tick.

What started your interest in budgerigars?

I grew up in a family of bird breeders in Northern Victoria. My grandmother had budgies and Canaries and four uncles showed budgies. My father, who knew nothing about budgies, bought a pair for me as a Christmas present in 1959 when he was off on a business trip.

The Sky Blue cock and Cinnamon Mauve hen bred some super Cobalts that won most times I showed them. I was hooked.

Only years later did I learn that these birds had come from the late Frank Gardiner.

How long have you been in the hobby?

On and off since 1959. I sold my birds when I went off to University, started again... then moved to New Zealand and later to USA. A few breaks along the way for personal and business reasons. The bug hit me again in 2010, so I started again.

What Club & level do you show at?

I show in Champion in USA. I am Judges Administrator for Budgerigar Association of America, a lifetime member of America Budgerigar Society(ABS), and also joined The Budgerigar Society (UK).

My local club is Greater Kansas City Aviculture Society.

What varieties do you keep?

My stud is mostly normals and cinnamons with a few spangles. I also have a few lutinos, recessive pieds and crests.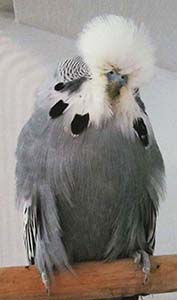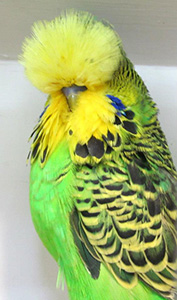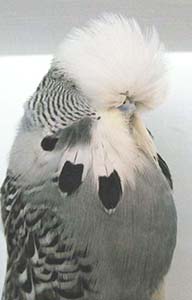 Three 49W Best In Show Winners
What is your best memory in the hobby?
My best memory in the hobby was placing second best in show at the1991 All American in Indianapolis with a young Grey Green cock against 1056 entries.
Another experience, I will never forget was judging the first National Budgie Show in Cairo, Egypt in April 2015.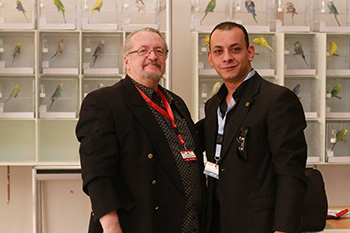 With Moheb Nabil at The First National Budgie Show.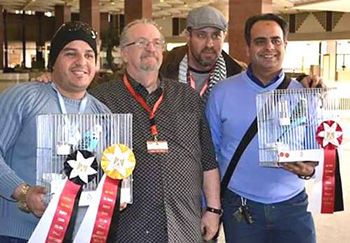 At Cairo Convention Center with Ahmad Soliman El Aggan (Rear - Show Organizer), Ahmed Abd Elmaksoud and Shahir Mahmoud, proud winners of the top awards.
Name your three top budgerigar breeders in Australia or anywhere else USA or world.
I only visited a few breeders when I visited Australia for the Geelong Nationals in 2012 but I was very impressed with what I saw at Peter Thurn's and also Steve & Tim Grech.
Hard to limit UK/European breeders to three...Daniel Lutolf, Maarten Heylen, Huxley & Marchant, Bowkers, Harry Hockaday and Mike Ball must all get a mention.
Which bird room would you like to spend a day in having a one to one budgie chat?
Visits I plan for later this year are with my buddy Daniel Lutolf in Switzerland and also with Maarten Heylen in Belgium
Which bloodlines have influenced your stud?
When I started again in 2010, I bought a few pair from Gary & Kathy Hicken in Utah. I did bring in a few from Andy Hind (UK) in 2012, which had Huxley & Marchant, Jo Mannes and Daniel Lutolf in the background.
The imports helped a little with directional feathering, but two families from the original Hicken birds produce the best both in numbers and quality.
What was your best ever bird and for what reason?
The Grey Green that placed second at the All American mentioned earlier. It won six shows and was prolific in the breeding cage.
What car or motorcycle do you drive / ride?
Nothing flash .Ford Taurus sedan.
Name the person you would most like to have dinner with?
Carlos Santana, he's a super musician and even better in person. I met him in a sushi bar in Los Angeles years ago. Such a great time I plan to do it again