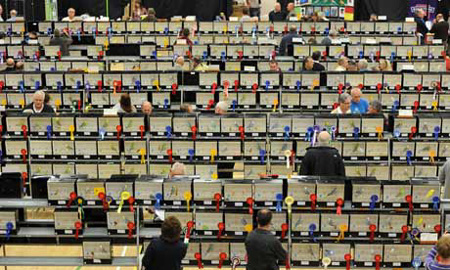 Judges are the "Ambassadors of Our Hobby" taking assignments around the country and sometimes overseas, to evaluate budgerigars wherever shows are held.
It's the part of the hobby I enjoy most.
You get to travel to different cities that otherwise you may never visit.
You meet up with friends, both old and new, who enjoy similar interests…. Including some you may not have seen for years, and others you only knew from phone calls and emails but had never met face-to-face.
You get to see some of the best birds in that area on a given day, up close and personal, and choose the very best from those that are entered.
You get a chance to share a little knowledge and ideas with those watching the judging… especially the Beginners and Novices.
And when you wake on any show day morning… you know that you are going to make a few people very happy that day…. And the expression on their faces tell you that is important too.
I must admit I spent many years in our hobby before I thought of becoming a Judge.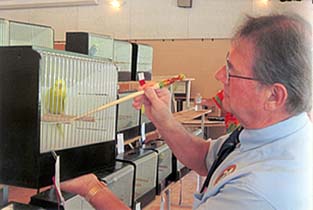 Bob Hammett judging a show (left) and Jeff Attwood pays attention to detail.
So what does it take to become a Judge?
Requirements differ from Country to Country and are usually set by your National Society.
In some countries you can become a Judge Trainee after 10 or 12 years breeding and exhibiting budgerigars. In others there are more stringent requirements including numerous wins on the show bench.
The Budgerigar Association of America's requirements to become a Judge Trainee include:
<![if !supportLists]> (1) <![endif]>You must be a member of the Association for at least 6 years.
<![if !supportLists]> (2) <![endif]>You must have advanced from Novice to Intermediate and to Champion with a specified number of wins in each Division, and been a Champion for at least 4 years.
<![if !supportLists]> (3) <![endif]>As a Champion you must have placed three different bird in top four in show.. including at least one Best-In-Show, under three different judges, and with a minimum number of birds and exhibitors.
When you have met the requirements you can apply, and if accepted there are training programs and plenty of study to do before your final written and practical tests are administered at the next Annual Meeting (Our Grand National Show).
Long before you apply to become a Trainee Judge you should start "doing your homework". There is a lot of information to learn and remember.
You should start by offering to steward at local budgie shows so you can learn the procedures used in your country…. And also watch and listen to comments by the Judge so you learn what he or show is looking for and how they penalize birds with faults. Offer your services at any show you attend so you get the opportunity to learn from as many judges as possible.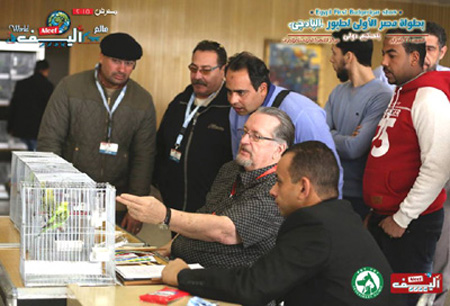 Working as a Steward is an opportunity to work with a Judge and learn from his comments ... as these exhibitors at The Aleef First National Budgerigar Championship in Cairo found out.
It is very important that you study the "Standard of Perfection" for your country, or WBO, the main features, the Scale of Points and Color Standards so you know the correct markings for each variety. … and The Guidelines for Judges in your country so you know which faults should be penalized and others that may disqualify an entry.
I found it helpful to visit top breeders and see some of their birds in show cages… and in your mind evaluate their desirable features and faults too, based on what you have learned..
At home you should pull several birds from the flight cage, pluck their masks, put them in show cages, and rank them in order. Do this frequently, using different birds each time. This can be invaluable in honestly evaluating your own birds, and will help develop you eye to identify good features and faults too.
When you feel you are ready to proceed make a written application to your National Society. If accepted your training program may differ from country to country. In USA the trainee is required to do several "walk-throughs/tests" where he/she actually judges specified classes and/or sections under the watchful eye of the Judge who then evaluates how he/she did, and may offer a few suggestions to help in the future, and prepare for the Final Test which is conducted in front of three experienced Judges.
Get as much experience as possible. This includes judging non-sanctioned local club baby shows, parlor shows and variety shows. All this experience helps, especially if you live in a country when judging is open and viewed by exhibitors. Some people are great at evaluating birds but get very nervous in front of an audience. My first judging assignment as an official judge took place with twelve judges sitting in the front row… a prank on their part to welcome me to their ranks… but I figured if I passed their critique I would be ready to judge any future shows.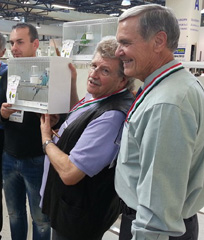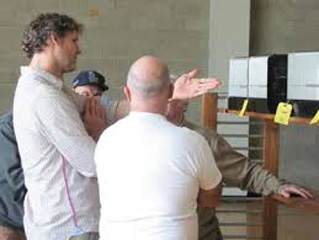 Dewayne Weldon checks out an entry with Jo Mannes (left).. and Daniel Lutolf makes a point.
First year judges frequently get invitations to officiate at plenty of shows. This initially is exciting… But your performance at these shows is critical as the people attending these shows are evaluating your performance and deciding if they will recommend hiring you again in the future. It is not only how you place the birds that is under the microscope, although they will want to see consistency in your decisions. How you interact with club workers and the audience, and your ability to communicate how and why you placed the birds are also very important.
If your goal is to become a Judge you are embarking on quite a challenge, but a challenge that will open your eyes to a totally new and rewarding part of our great hobby. Don't rush. Do your homework. Keep learning. Share your knowledge. Treat everyone with respect along the way. And soon you will be judging shows around your country and maybe even overseas.
It is always an honor to be invited to judge shows in your area, and even more in other countries. In 2016 I returned to Cairo to judge the Aleef National Show for a second time in April, along with Maarten Heylen from Belgium. This was followed by a Young Bird Show in Belgium in May, and shows in Arizona, Texas, Illinois, Missouri and Iowa in USA.
2018 assignments included Phoenix Arizona, Johor B&CC in Malaysia, WBO World Show & South Africa Nationals, Cairo Egypt, Windsor Canada, Lahore & Multan Pakistan, and Guadalajara Mexico.
In 2019 I judged in Jogja Indonesia, Kelantan Malaysia, Dhaka Bangladesh, Johor Malaysia, Cairo Egypt, Arkansas USA, Canadian Nationals, Manama Bahrain and Jeddah Saudi Arabia.
I am available to judge shows whenever dates fit with my work schedule. If you need a judge for a future show Email Me with details.