~ ~ Back in September 2011 I spent a couple of weeks in England and had the opportunity to visit several top breeders with my good friend Eric Peake. At the aviaries of Alan Marchant (Huxley & Marchant), Alan Adams, John Copeland, Eric Peake, Irv Saunders, Mike Banks, The Holland Stud, Alex & Dave Woan, Dave Cottrell and Tommy Willams, we met top Champions who, each in their own way, have made their mark on the hobby. And we saw some incredible birds. However it was in Moulton, Cheshire that we visited a young man whose birds made a real impression on me. Andy Hind is one of those "diamonds in the rough" we hear about… Breeders without the big reputation who are doing something special. From rather humble beginnings, in just four years he has successfully blended some of the top European and English bloodlines to form the foundation of a stud we are sure to hear about in years to come. Recently Andy put together a few notes on how he got started. It's a great blueprint for anyone new to the hobby to follow. Enjoy. … Bob Wilson ~ ~
THE HIND STUD BEGINS...................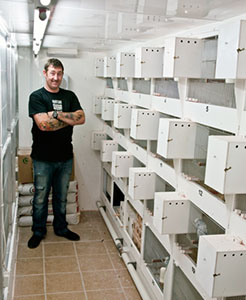 My name is Andrew Hind.
I live in a small village called Moulton in Cheshire, England, in the UK. I have kept birds and livestock since i was 8 years old including ferrets, dogs, tropical fish, finches, parakeets, pigeons and poultry.
I learned a lot about pedigrees and line breeding from my two uncles who used to successfully race pigeons.
I first started with exhibition budgerigars in 2005 with birds from various sources and friends. I soon learned that I needed to be building lines and families of birds to make foundations for the future.
In 2007 I decided to sell all my birds and keep only the best seven cocks. In total I sold 160 birds and began to search for some related line birds.
I phoned a chap who lives near to me in Congleton. His name is John Copeland. John had recently visited Jo Mannes and bought two very nice birds. The cock was a superb double factor white spangle and the hen was a lovely stylish bird being a cinnamon grey dominant pied. John bred no less than 40 youngsters from this pair which all had 100% Mannes blood. I decided to ask John for any surplus birds from this pair and he was kind enough to let me buy 11 youngsters, 4 cocks and 7 hens.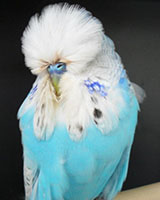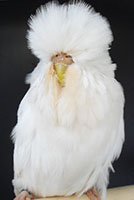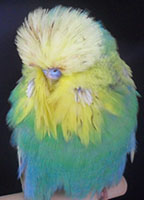 I decided that at first I would pair the Copeland hens to my cocks that I kept after my big sale. To my astonishment all seven pairs produced youngsters which were all cousins. These birds were an improvement on the original purchases. I then paired the best four hens I bred to their uncles that I bought from John. These pairings produced some super normals, spangles and cinnamons which were the foundations of my stud today.

FURTHER IMPROVEMENTS................

I made an effort to bring in outcrosses on a regular basis to improve certain features. The majority have been Huxley & Marchant bloodline which are superb in feather length, backskull and directional feather. Also I was lucky to get a few birds from the late Bill Ruthven in Sheffield. Bill's birds were stunning specimens having big shoulders and superb deportment and have certainly improved my stock.
I also acquired a Lutolf rung skyblue cock DL125-252-2006. This bird was the foundation of my cinnamon family and he has been used in the spangle family also.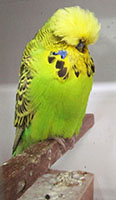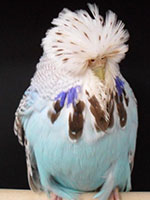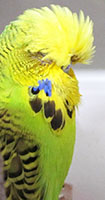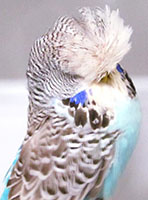 I have also had a number of birds from Terry Jukes in Stoke-on-Trent which have made a big impact and formed the basis of my normal family…. I now have three families of birds so my stud will be independent for a number of years without having to purchase many outcrosses. The three families in progress at present being the Spangle, Normal and Cinnamon lines.
I recently added two varieties which I really like, dilutes and greywings. These will be merged into the cinnamon and normal families.
I have been swapping a few birds with my good friends Nigel Darley and Tony Cash too. I can safely say my stud is my own bloodline now based on super foundations from top UK and European lines. Outcrosses are usually used and moved on, then the best of the offspring are paired back into the main family line.

THE BIRDROOM.......................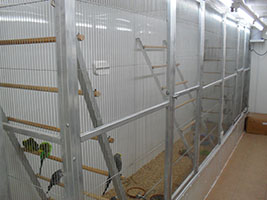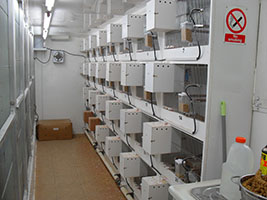 My birdroom is a concrete sectional building measuring 24 feet by 10 feet, I have 28 standard breeding cages each measuring 22 inches by 16 inches by 12 inches. The main flight is 16 feet by 3 feet. The baby flight measures 3 feet by 4 feet by 3 feet.
I use an automatic drinker system which saves lots of time. There is plenty of cross ventilation and extractor fans to keep the air in the birdroom nice and fresh. During the warmer months of the year the door and window is open to keep air quality excellent

FEEDING REGIME.......................

My feeding regime is a seed mixture for the breeding cages and baby flight being 50% plain canary, 25% white millet, 25% yellow panicum millet.
In the main flight I feed separate dishes of plain canary, white millet, yellow panicum millet, japanese millet, clipped oats and black sunflower seed.
All cages and flights get soaked millet sprays and soft food daily.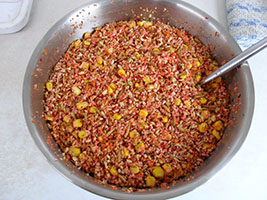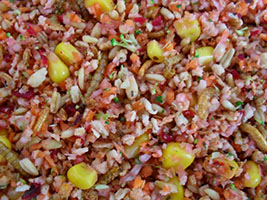 The soft food mixture consists of vegetables which are put through a blender and lots of other things good for the health of the birds... carrot, fennel, celeriac, beetroot, sweetcorn, dried herbs, dried mealworms, dried gammarus shrimps, pinch of salt and a large spoon of honey. This is mixed with 3 small cups of a horse conditioning cereal called Badmintons. I also offer mineralized oyster shell grit, osmonds ultimate and iodized pink mineral powder in finger drawers and pots.

INSPIRATION AND THE FUTURE...........................

Having only shown at a couple of shows a year since I started with exhibition budgerigars, I have won plenty of rosettes and section wins in Beginner and Novice. I moved up to Intermediate section in 2011 and hope to show my birds more in the future.
People like Frank Silva, Bill Ruthven, and Alan Marchant have all been huge inspirations for me sharing their wealth of knowledge to help me build my stud for the future.
Hopefully i can improve my birds even further then… Who knows?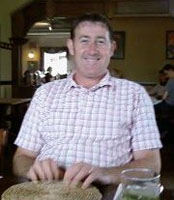 Andy Hind – http://hindstudbudgerigars.webs.com