The magic of the Internet brought those of us in the budgerigar hobby closer together than ever before, allowing us to communicate with breeders Worldwide we had never met or heard of previously. A shining example of this in Moheb Nabil who had quietly been working with crested budgerigars in Egypt. We first met on a FaceBook budgerigar group and I was immediately intrigued with what he had accomplished.
The following is a brief interview with Moheb, now affectionately known as "The Pharaoh of Crested Budgerigars"..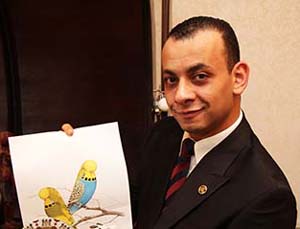 Moheb.. You have some incredible crested and frilled budgerigars from the photos you have posted online. When did you become interested in these varieties?
I started breeding budgies when I was six years old. I bred Crested and English budgies. Six years ago I managed to get three Japanese crested birds (one male and 2 females). I have extracted so many new colors out of these birds by inbreeding in some stages, mating with normal, and mating with cross bred English to increase the quality of the stud and the selective feathering in birds.
Are many budgie breeders are working with crests and frills in Egypt?
Actually there are countless numbers of breeders working with crests and back frilled budgies and we have top levels and quality feathering in the birds.
I have to be humble when we come to mention the issue of the Japanese Crested as no one except me here in Egypt acquired such fascinating quality in this variety or managed to reach the level I have achieved. Others may have some but maybe the birds they have are not pure, do not have the two flowers of feathers on each wing, or the bird itself is poor in size and feathering.
When did you get started with budgies?
I was 6 years old when my parents took me to the zoo and I saw budgies. Soon after they got me one pair and then later another pair.
Who did you get your initial crested stock from?
Six years ago I managed to buy three of these fascinating budgerigars in the local market place. I bought the birds from a normal breeder in the market and they were just having a tiny backfilled feathers (they seemed to look like the hunch back of Notre Dame). This breeder for his bad luck thought that they may be having an infection or something wrong in the feathers so he wanted to get rid of them. I took them and started to mate them by using a very complicated schedule to track their off springs.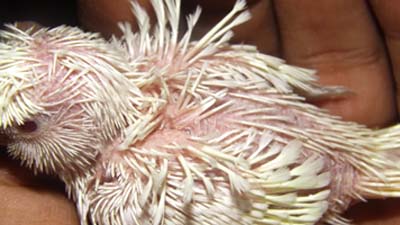 Interesting to see the quill directions as these youngsters feather up.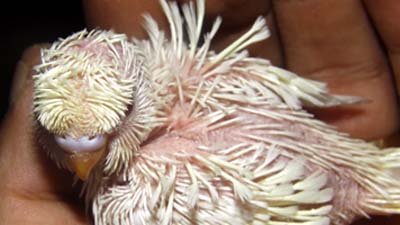 Do you still have any of that "start-up" blood in your aviary today?
Yes but very limited amounts and I am working on them again.
Tell us a little about the hobby in Egypt today.
Simply, the hobby is increasing rapidly concerning the crested and back frilled. Many breeders have good quality birds nowadays but we do not have the top quality levels yet of the exhibition budgies as those in UK & Germany.
Are there any budgerigar clubs?
No, just forums.  Also there are no Shows as in UK for example. Contests are limited to forums only.
Are there many breeders?
Yes a lot of them.
Which mentors have influenced you the most over the years?
Once i started early in my childhood , my mentor was my mind , eyes and ability of watching birds, documenting my notes and referring again to them in time of need,
Honestly no one taught me, i just was writing the mistakes i have done all times and trying to avoid them the next time.
I started very early the hobby with just a pair gifted from my mother (cobalt male & lutino hen) they mated a lot and bred many colors. Later my father bought me another pair (normal green male and albino hen) so I had the basic colors. My imagination drove me to more colors so I started mating chicks from both pairs to each other and so on.
My beloved parents never told me stop breeding birds, so I thank my parents much as they encouraged me so much.
I bred many, many, many chicks and sold them and got my first English imported pair. Breeding was so slow but I managed breed plenty of chicks. I sold some of them to buy better and English budgies in various colors. I spent many years breeding normals and English and crossbreeding them.
There was no invention called web or internet, just some cheap books from pet stores and little programs on TV about birds. I used these simple resources to enhance my knowledge.
When web appeared here in Egypt, i started reading for a lot of hours to polish my skills and know more about all issues.
One day I remember I had 200 top quality birds plus their eggs and chicks.
My main concern and full love went to the Japanese crested budgies and I spent 6 years developing them till I reached a top quality stud.
Also i have managed to produce Japanese crested English Birds and this was as reaching the edge of the galaxy.
My Great Gifts was when The Big 4s (Gerald Binks, Barrie Shutt , Didier Mervilde have posted articles about me in their great websites  &  also  the very dear Bob Wilson rewarded me with many gifts and asking me more detailed questions).
Is it possible to import budgerigars to Egypt from top studs in other countries?
Yes, and I also knew lately how to export to other countries from my very well bred pure bloodline birds. In fact, exporting birds from Egypt is quite easy nowadays, more than importing; people are very concerned and involved in breeding birds. There is a very good market for birds here, but it would be desirable to have the same facilities for import as well.
What birds have you bought in that have had a major impact on your stud?
The English Budgies have had a major impact on my stud. Mating them to normal, crested and back frilled gives incredible results in size, posture and the circular wide full crested crown on the bird's head, but a major problem is that English hens rarely accept a crested male but I have learned with patience some eventually do…
Any other bloodlines in the background of your birds?
Mainly English Budgies, Normals & Crested (Back Frilled, Single crested, half crested & double Crested)
Tell us a little about your aviary/bird rooms..
A medium sized aviary with many cages and a medium aviary to be used as a flight area.
Small place for seeds and tools.
Vitamins and medicines kept in the refrigerator.
Medium sized cages used for selective breedings.
How much time do you spend with your birds?
At least one hour daily, but maybe four or more hours in weekends. Also I keep reading many issues about budgies to keep my mind fresh and active. I have to say I am still learning till know and very glad to learn more every day from others.
What are you looking for when you introduce new outcrosses?
More nice & unusual colors.
Big size Birds.
360 degree full circular crown crests.
Very good feathering quality.
Very good pure bloodlines for future.
What type of pairings have produced your best youngsters? Do you pair within family/bloodline? Or go more on visual pairings?
Pairing rainbows with each other.
Pairing Spangles with very good normals.
I use both techniques (limited pairing within family/bloodline, depending on visual features, and sometimes I use the inbreeding technique but carefully.
What was, or is, the hardest thing you found to "fix" or change in your birds over the years?
I have managed to produce Japanese crested English Birds and this was as reaching the edge of the galaxy.
The hardest thing was when there was no web connections or available reference to be bought
Using good sized and well tall lengthed normals and English to obtain new colors for the crested variety or the Japanese.
Mating Crested males to English hens.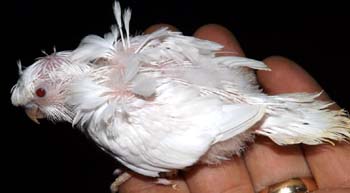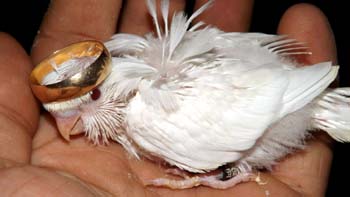 With the climate in Egypt when is the best time to pair up your birds?
The breeding season starts from 1st of September till the end of March, but some      breeders continue in summer, which is hard on the birds as temperature here can reach 50ºC.
What do you feed your birds?
Canary and millet seeds
Boiled radish seeds and sunflower seeds
Green fresh clover which enhances breeding because of its vitamin content – which acts like Viagra, hence breeding is easy!
Lettuce and cress also has the same effect of Viagra – particularly the cress
Sweet potato — one slice / week when there are no eggs around and I increase it to two slices once eggs are present
A few drops of honey and black molasses each week.
Boiled eggs with grinded  toast
Clover & Cabbage
Soaked or planted wheat, malt, canary seeds.
Dried earth worms mixed with some aquarium fish food to provide additional protein.
Do you make any changes or give anything extra approaching and during the breeding season?
I separate the sexes at the beginning of September for a month. Every male is placed in a cage with nest box and hens in another cage. By the end of the month all hens are placed with the selected male.
I offer cress (water cress & radish) for all of them plus minerals and vitamins.
Do you give any supplements in the drinking water?
Minerals and vitamins from a pharmacy (used for human babies)
Minerals and vitamins from a Vet pharmacy.
Food supplementary Powders.
What are your favorite varieties and colors?
Spangles (ll colors single factor and double factor).
Lacewings, Rainbows, Lutinos, Grey Green & Pieds.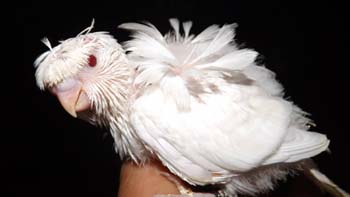 What is the best stud of birds you have seen in your travels?
For my bad luck, I have not traveled to see birds of other breeders. But I wish one day I go to UK.
What is your favorite aspect of the hobby? Why?
Patience & Wide scope of imagination, it may be slow but you reach amazing results. Furthermore, following the proverb that necessity is the mother of invention.
Reaching birds with the highest quality bloodline (full circular crest on the heads with a large back frill and feathers on both wings).
What do you consider the biggest challenge facing the hobby today, both in Egypt and Worldwide?
The biggest challenge facing the hobby today,
 In Egypt:
Many breed with no aim, no plan or for just breeding.
Very few number of breeders have few number of good or may be very good English Birds.
Not renewing bloods from outside studs on regular basis.
No English birds from the top worldwide breeders can be found here (may be one or two breeders have been able to obtain stock bred from Lutolf birds).
Not all or majority of breeders can purchase show Budgies with high prices.
Not all colors or types in some cases are pure.
No smooth channels for buying and exchanging birds with outside countries.
Limited number breeders are keen to establish their own bloodlines for many varieties of colors.
Complicated procedures of importing.
World wide?
Maybe Breeders shall offer more cooperation with those in the hobby here in Egypt whereby we can purchase from their studs and at the same time those breeders will become better known in Egypt.