Thanks to my creative friend Autumne we now have a series of budgie stickers to use as Contest Prizes on my Facebook Exhibition Budgerigars Group.
The stickers are finding their way around the World and Contest Winners are finding some unique applications for them to promote our hobby or decorate their birdrooms.
Here are a few examples:
On a mason jar in Kansas City USA ... and framed budgie art in Cyprus..
On the front window of a shoe store in Indonesia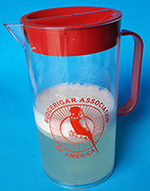 On a pitcher (preparing garlic juice for budgies) in Missouri
... and a car window decal in Malaysia.
If you would like a sticker join Exhibition Budgerigars Group and watch for the next contest for a chance to win.
Or, you can join Budgerigar Association of America. All new BAA members get a special edition colorful window sticker this month.